Introduction
External hard drive enclosures are quite handy to have these days. You can use them for backups, you can use them for transferring files, or you can even use them for general storage bins for some of your data (especially if you're in to multimedia). The Sans Digital MobileSTOR Series MS2C1 drive enclosure is one such tool that is designed to house two drives in one small tidy unit, supporting both RAID striping and single/separate drive configurations (JBOD: Just a Bunch Of Drives). The MS2C1 was provided to us by Sans Digital for this thorough review, and currently retails for about $210 on Newegg.com.
Specifications
Boxed contents:
The MobileSTOR Series MS2C1 drive enclosure
Power cable
USB cable
FireWire 800 cable
2 small zip lock bags (each with screws and plastic "keys" for each drive tray)
CD with NTI Shadow backup software
Pamphlet with instructions
MS2C1 Specifications:
2 swappable 3.5″ Hard Drive trays
JBOD and RAID 0 (Striping) supported
Supports SATA I/II Hard Drives only
1.5 TB (Terabyte) maximum total capacity; supports up to 750GB drives
1x USB 2.0, 1x FireWire 400 (IEEE 1394a), 2x FireWire 800 (IEEE 1394b) Interfaces
Rear 40mm cooling fan
Internal 70W Power Supply
Hard Drive activity LEDs & power LED
4.8″ W x 7.9″ D x 4″ H
3.7 lbs
1 year warranty
Note that neither the hard drives or FireWire 400 cable are included with the MS2C1.
Also note that so far, the FireWire 800 interface only appears to be available through select PCI expansion cards and on newer Mac desktops and laptops.
Initial Impressions
First off, here's the box and the box's contents as they arrived. The contents were packed well, so there's little chance of anything getting damaged in transit.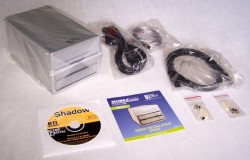 Everything you see in the photo was packaged in the box. This includes the MS2C1 enclosure itself, a power cable, USB 2.0 cable, FireWire 800 cable, two small ziplock bags (each with screws and plastic "keys" for each drive tray), a CD with backup software, and a pamphlet listing instructions, specs and other available Sans Digital hardware.
It was disappointing to discover that there was no FireWire 400 cable included with the MS2C1. This cable must be purchased separately if it is required. Both USB 2.0 and FireWire 400 have more or less become standard finds on mid-range to high-end PC motherboards, as well as most pre-built PCs, so it seems somewhat negligent to not include a FireWire 400 cable.
It was also surprising to discover that this drive enclosure only supports JBOD and RAID 0. Since the MS2C1 can hold two drives, it was half expected that RAID 1 (mirroring) would also be an optional RAID mode. For whatever reason, it was not–but it should be pointed out that relying on RAID 1 as the only means to backup a drive is not very reliable, which may have been (part of) the reason why RAID 1 was not included in this drive enclosure. Either way, if you have your heart set on RAID 1, the MS2UT drive enclosure supports RAID 0 and RAID 1, but not JBOD. The MS2UT comes with USB 2.0 and eSATA (external Serial ATA) interfaces.
It was curious to find that there were two FireWire 800 interfaces on the MS2C1 drive enclosure. The reason for the two interfaces was not apparent on Sans Digital's website or the MS2C1's instructions. We contacted Sans Digital about this detail, and they were able to shed light on the mystery. The additional 1394b interface can be used as a hub to daisy chain another 1394b device to the enclosure (so you don't waste a FireWire 800 port on your laptop/desktop).
As for the hard drives, you can purchase just a single drive, or two drives. For the purposes of this review, two Western Digital Caviar RE WD3200SD (RAID-optimized 320GB, 8MB cache SATA I, 7200RPM) drives will be used. These drives are specially optimized and designed for use in RAID arrays, however, they will perform like regular Western Digital Caviar drives if used individually (i.e., under JBOD).
As for the enclosure itself, it's fairly light and durable, so it will take a few drops and dings without ill-effect (however, I wouldn't recommend dropping the enclosure after installing the hard drives). The enclosure is fairly small, and doesn't look like it can actually hold two hard drives, but I assure you, it does. This unit can be easily stored on top of your tower or in some out-of-the-way nook, while also touting rubber feet so as not to scratch any surfaces it may rest upon.